Our Staff Yorkfield Stables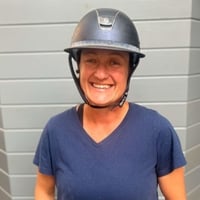 Lucy Davies – Owner and Head Trainer
Lucy Davies, the esteemed Owner and Head Trainer at Yorkfield Stables, embarked on her equestrian journey at the tender age of four in Kingswinford, England. After earning her university degree, she explored her passion for riding further in Germany and London before establishing her roots in the United States.
Throughout her diverse equestrian career, Lucy has immersed herself in a myriad of riding disciplines—from fox hunting and eventing to hunter/jumper. She has had the privilege of participating in clinics with renowned riders like George Morris and Jeff Cook, acquiring invaluable insights and honing her skills.
Lucy's unique talent lies in meticulously developing her students, offering individualized attention to ensure they are equipped to compete at any level and in any ring. She possesses a deep understanding of the distinct needs of each rider and horse, enabling her to cultivate a tailored training approach that fosters growth and success.
Apart from her dedication to training within the confines of the ring, Lucy harbors a love for outdoor adventures. When not engrossed in a competition, she and her students can be spotted participating in hunter paces or enjoying exhilarating trail and beach rides. Lucy's comprehensive background, adventurous spirit, and commitment to personalized training make her an invaluable leader and mentor at Yorkfield Stables.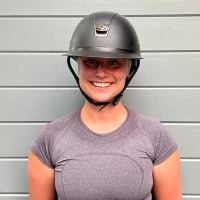 Sophie Meserve – Assistant Trainer
Sophie Meserve is a dedicated and passionate Assistant Trainer at Yorkfield Stables, where she nurtures both horses and riders to reach their highest potential. With a rich background in equine science and equestrian sports, Sophie has always been drawn to the profound connection between horse and rider, aiming to foster this bond in her training approach.
At Yorkfield Stables, Sophie works closely with a team of experienced trainers and vets, applying her skills and knowledge to support the development of both recreational riders and competitive equestrians. She specializes in dressage and show jumping, but her versatile skill set allows her to train various disciplines. Sophie is deeply committed to creating a safe and positive learning environment, encouraging riders to build confidence and horses to flourish
In addition to her role as an Assistant Trainer, Sophie is continually expanding her education and skills through workshops, seminars, and certification programs. Her commitment to lifelong learning and her love for horses make her a valuable asset to Yorkfield Stables, contributing to the success and well-being of both horse and rider.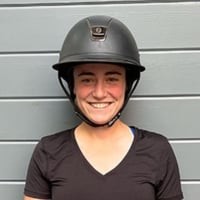 Julia Gould – Assistant Trainer
Julia Gould is an Assistant Trainer at Yorkfield Stables, bringing a wealth of experience, passion, and dedication to the team. She plays an integral role in guiding both horses and riders on their journey to success, focusing on fostering a harmonious relationship between them.
Julia's journey with horses began at a young age, where she discovered her love for these majestic creatures and the equestrian sport. She has since committed herself to learn and grow in the field, gaining extensive knowledge in various riding disciplines and horse care practices.
As an Assistant Trainer, Julia's approach to training is rooted in her belief in the importance of understanding each horse's unique temperament and needs. She employs a blend of traditional and innovative training techniques to ensure the optimal development of every horse and rider under her guidance. Julia is particularly adept at identifying and nurturing the strengths of her students, allowing them to flourish in their chosen discipline, whether it be dressage, show jumping, or eventing.
Julia is also committed to her own professional development. She regularly participates in clinics and workshops with esteemed riders and trainers, continuously expanding her knowledge and refining her skills to stay abreast of the latest advancements in equestrian training. Her dedication to the welfare of horses and the personal growth of riders makes her a cherished member of the Yorkfield Stables team.